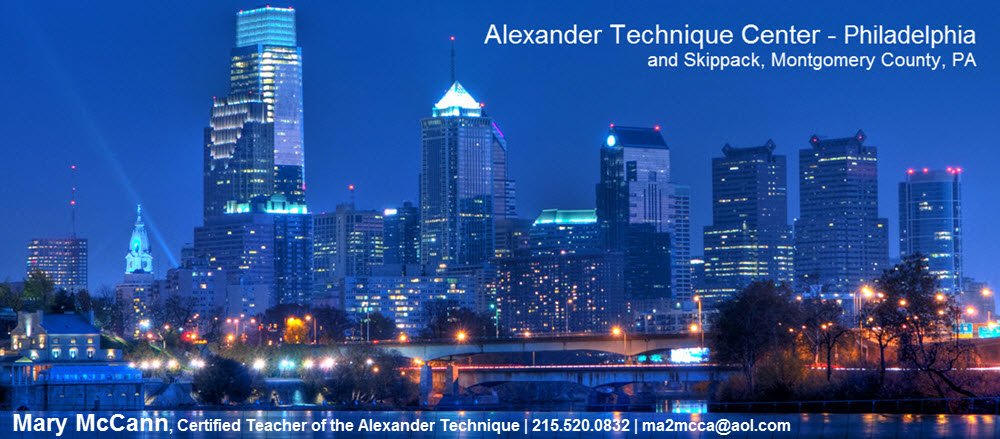 The Alexander Technique is an educational and restorative system that can bring cognitive, physical, and emotional balance to your life. For over 75 years, people from many countries have practiced this method to enhance strength, ease, and freedom of movement. The Alexander Technique is widely used by people in the medical field, people in performing arts, athletes, equestrians, artists and artisans, business leaders, IT professionals, public speakers, and many others.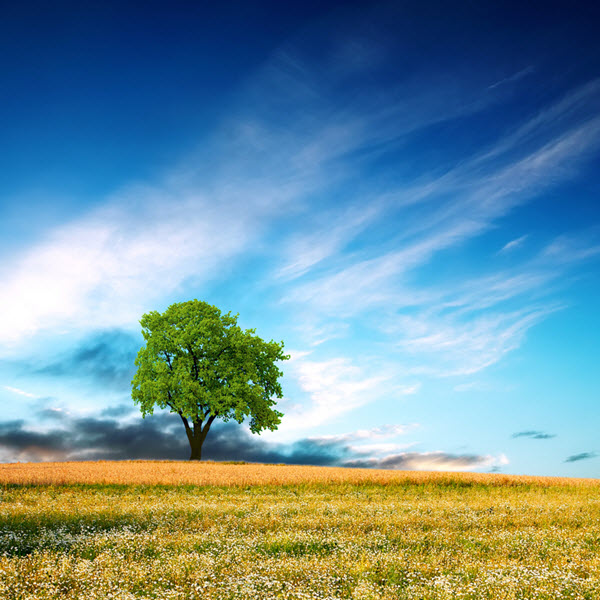 "...every single thing we are doing in this work is exactly what
happens in Nature, where the conditions are right, the difference
being that we are learning to do it consciously." -F.M. Alexander

Mary McCann has been a certified Alexander Technique Teacher since 1988. She has presented master classes and workshops for institutions such as Harvard University, Bryn Mawr College, DeSales University, Wilma Theater, Simply Shakespeare, Pennsylvania Hospital, and the YMCA. Mary's students include performing artists (beginner through professional), healthcare professionals, lawyers, psychologists, business leaders, life coaches, equestrians, educators, Fortune 100 managers, yoga enthusiasts, and many others. In addition to a three-year teacher training program, Mary has studied with over fourteen nationally and internationally recognized teachers of the Alexander Technique.

Alexander Technique Center - Philadelphia
and Skippack, PA

IN THE NEWS:
Mary is acting coach for Alice Manning in "Stronger than the Wind."
Read article. Carl Reiner talks about the play.
"An evening well-spent at the theater...a brilliantly engaging performance filled with heartache and amazing humor... both moving and hilarious."
- Boston and Beyond

"Compelling... [Alice Manning] is able to tell the story in such raw detail with earnest openness....although it is her deeply personal story, it contains universal relatable elements."
- Broadway World

To learn more about lessons with Mary, please call 215.520.0832 or email her at ma2mcca@aol.com. Studios conveniently located in Philadelphia (Manayunk) and Skippack, PA. Performance coaching is also available.



Learn more about how Alexander Technique lessons could benefit you specifically, if you are a:
What people are saying...
"One of the most surprising things I learned is that I didn't have to work so hard."
-Meghan Malloy, Actor

"Through my Alexander technique lessons with Mary, I have learned about the way my body works in a new and radically different way. Mary is a very effective teacher and she employs a very gentle method of working with students which is totally non-invasive but very effective and productive. After a lesson or workshop with Mary, my body is pain- and tension-free and I can move freely and easily, and also take the awareness which I have learned and apply it to all aspects of my professional and personal life..."
-J.M., Harpist, and Clinical Therapeutic Harpist

"...Sometimes, work relating to body is difficult; we each have our physical habits and insecurities, but McCann is so adept at creating an easy, kind environment that I felt perpetually safe to explore freely. Whether you are seeking guidance in the physicality of characters, or the achievement of grace through physical understanding, I highly recommend Mary McCann as a successful teacher."
-J.G., actor


"Mary McCann has a rare
and magical gift."
-Anne K. Holmes, Education Director
Wilma Theater, Philadelphia

experience the benefits
Many students report these benefits following Alexander lessons:
a sense of lightness
easier breathing
enhanced strength and muscle tone
ease and freedom of movement
improved stage presence
vocal clarity
a sense of well-being and mindfulness

Sign up for your first lesson today.
Contact Mary at the Alexander Technique Center - Philadelphia and Skippack, PA for more information.
Phone: 215.520.0832
Email: ma2mcca@aol.com

Learn more
www.AlexanderTechnique.com

Alexander Technique is popular with performers and non-performers. There are hundreds of applications. Anyone can benefit.*
FAQ

What happens in a lesson?

How many lessons do I need?

Who was F.M. Alexander?


explore more






*Please note: Alexander Technique is movement re-education. It is gentle, safe, and non-invasive. By educating your body and mind, the Alexander Technique can have many benefits, but it is not considered a cure. The information on this website, including links and blogs, is intended for educational purposes only. Please speak with your doctor before beginning Alexander Technique.